Standard First Aid and CPR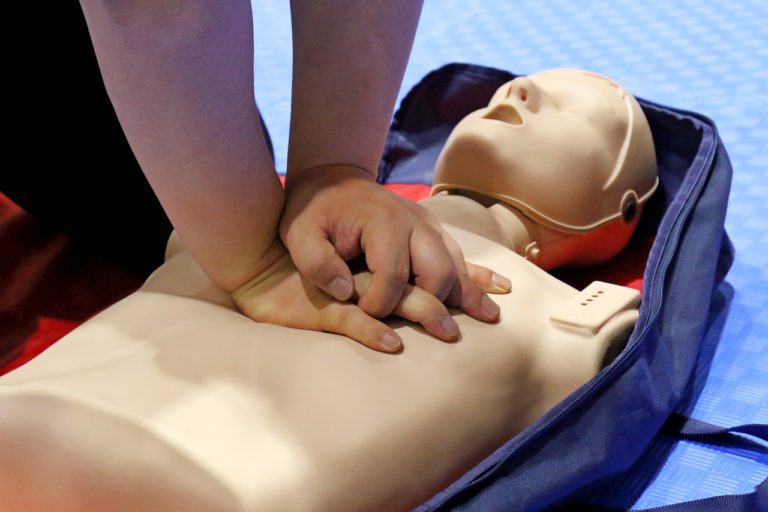 Cost: $50
3 1/2 hours
2 year certification
Infant Certification Available
–simply request it before or on the day of training.
We provide a weekly CPR and First Aid class for lay responders.  The purpose of this class is to help participants recognize and respond appropriately to cardiac, breathing, and first aid emergencies; to know how to care for a suddenly injured or ill person until more advanced medical personnel arrive and take over.  This course uses the curriculum provided by the American Red Cross, and is taught by instructors who are certified through the American Red Cross.
Objectives:
Identify emergencies,

Understand how to check the scene and the injured or ill person,

Understand cardiac emergencies,

Practice administering CPR,

Understand breathing emergencies,

Practicing administering help to a choking victim,

Understand other serious illnesses,

Understand and practice care for severe bleeding,

Understand care for other injuries,

Understand care for heat and cold emergencies.
Event
Venue
Date
Standard First Aid/ Adult & Child CPR

Golden Valley East Office

November 28, 2023 5:00 pm

Register
Standard First Aid/ Adult & Child CPR

Golden Valley East Office

Register
Standard First Aid/ Adult & Child CPR

Golden Valley East Office

Register
Standard First Aid/ Adult & Child CPR

Golden Valley East Office

December 12, 2023 5:00 pm

Register
Standard First Aid/ Adult & Child CPR

Golden Valley East Office

December 15, 2023 9:00 am

Register
Standard First Aid/ Adult & Child CPR

Golden Valley East Office

December 22, 2023 1:30 pm

Register
Standard First Aid/ Adult & Child CPR

Golden Valley East Office

December 26, 2023 5:00 pm

Register
Standard First Aid/ Adult & Child CPR

Golden Valley East Office

December 29, 2023 9:00 am

Register