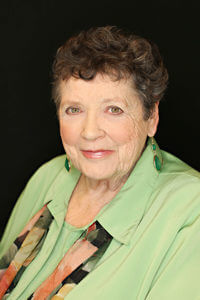 Marya Hage
Advisory Board Chair
Marya Hage was the founder of Meridian Services, which led to the development of several related companies including Orion Associates. In her position Advisory Board Chair, she continues to play a pivotal role in the overall direction and management of the organization.
Marya was recognized as a Minnesota Trendsetter in the January 2006 edition of Minnesota Monthly's semi-annual profile of the regions leading companies and their key executives.
In stating her philosophy of service, Marya says, "I believe that we have been given incredible gifts. By the living standards of most of the world, we have great riches. We have also been given the luxuries of time, opportunity, skill, and intelligence. But most importantly, we have also been given the opportunity to share what we have with those around us as we work for a better and happier life for the consumers we serve."
Marya is a graduate of the University of Minnesota, Duluth, having earned a Bachelor of Arts degree in Political Science and History. She also has a Master of Science degree in Rehabilitation Counseling from Saint Cloud State University. Marya is both a Licensed Independent Social Worker and a Licensed Psychologist.
Marya began her professional career as a Social Worker in Saint Louis County where her responsibilities included intake, adult protection, child welfare, and working with people with developmental disabilities. Later, she established the first Volunteer Services program in Stearns County. She also initiated an apartment training program for people with developmental disabilities and then became Training Director for that corporation, planning, approving, and developing all training materials for the staff and organizing and presenting seminars and workshops.
In 1980, Marya founded Meridian Services as the first licensed Semi-Independent Living Skills (SILS) program in the state. In 1984, she contracted to deliver Case Management services to clients with developmental disabilities. With the advent of Waivered Services, Meridian Services opened its first Supervised Living Services (SLS) home and began to provide In-Home Services.
Marya also has a long history of volunteer activities. While living in Duluth, she served on the Board of the Duluth Welfare Council, the planning body for all United Fund agencies. She was president of her church women, and president of the four hundred member League of Women Voters. She remains politically active. She has been president of the Saint Cloud area Sons ofNorway, and has served on the Sons of Norway District Board, working with lodges from Minnesota to Texas where her responsibilities include directing social, cultural, and publicity activities. More recently, Marya has been active on the Stress Team of the American Red Cross. She has worked as a volunteer psychologist on the Oklahoma City Hot Line, Hurricane Marilyn in Saint Thomas, Hurricane Georges in Mississippi, Hurricane Isabel in Baltimore, and floods and tornadoes in West Virginia, Oklahoma, and in Minnesota. She served at the Pentagon after 9/11 and after the school shooting at Red Lake High School. She is also a member of the Critical Incident Stress Debriefing team, the team that works with police, firemen, ambulance drivers, and others after they have experienced traumatic events on the job.
Marya's most important interest, however, is her family. Marya has four children and eleven grandchildren. In her spare time, Marya loves reading and traveling.